April 17, 2019 | Panther Creek News
Panther Creek 2015 Carter Vineyard Pinot Noir | Briscoe Bites Review
APRIL 17, 2019 - Panther Creek 2015 Carter Vineyard Pinot Noir
Are you following along on my exploration of the Willamette Valley via Panther Creek Cellars? If not, check out these single-vineyard offerings from Kalita, Schindler, and De Ponte vineyards. (And why not take a peek at their Chardonnay and Pinot Gris for a few Willamette Valley white wine options?) Next stop: Carter Vineyards…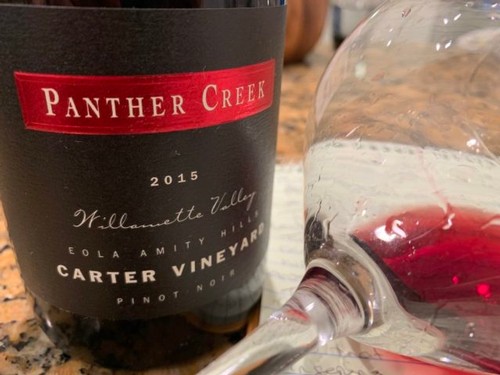 About the Wine: Panther Creek 2015 Carter Vineyard Pinot Noir is made from 100% Pinot Noir grapes harvested from Ken Wright's Carter Vineyard located in the Eola Amity Hills AVA in Willamette Valley, Oregon. The wine aged in 100% French oak barrels (38% new) for 17 months.
193 cases produced.
14.1% ABV
Flavor Profile: Open the bottle of the Panther Creek 2015 Carter Vineyard Pinot Noir and breathe in blackberry jam, fresh oak wood, damp soil, a hint of cacao, and an essence of smokiness. The look of this Pinot Noir emits a light, pale, dusty cranberry hue on the pour, settling into the glass just the same, but fading out even more along the perimeter to a very pretty rose-petal pink color. Initial aromas are absolutely of flowers. It's a rose petal perfume with hints of cranberries and pomegranate. Swirl and those florals become so rich. Add a bit of green herbs, bramble; find that hint of chocolate and add vanilla essence. But really and truly this Pinot Noir is all about those florals…
Comments
Commenting has been turned off.