April 12, 2019 | Panther Creek News
Panther Creek 2015 Schindler Vineyard Pinot Noir | Briscoe Bites Review
April 12, 2019 Panther Creek 2015 Schindler Vineyard Pinot Noir
Today we're taking a venture over to the Eola-Amity Hills AVA of the greater Willamette Valley, Oregon. Another beautiful Pinot Noir from Panther Creek and—sorry, no—this one does not come with a slice of pizza. (Though, it totally could.)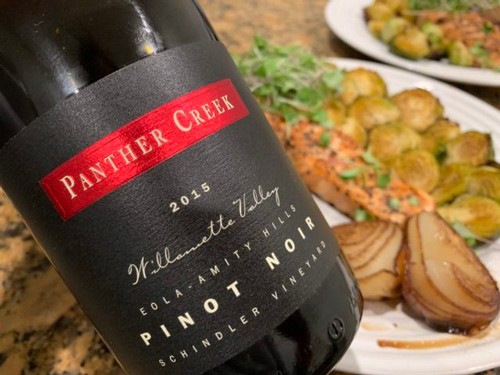 About the Wine: The Panther Creek 2015 Schindler Vineyard Pinot Noir is made from 100% Pinot Noir grapes sourced from Shindler Vineyard in the Eola Amity Hills AVA of Willamette Valley, Oregon. The wine aged in 100% French oak barrels (35% new) for 8 months.
14.5% ABV
Flavor Profile: Open the bottle of the Panther Creek 2015 Schindler Vineyard Pinot Noir to breathe in unctuous aromas of blackberry jam and a kind of red-meat, au jus-like umami. This Pinot Noir presents a light pink-rouge on the pour, settling into the glass just the same color, but with a more luminescent hue.
Initial aromas are bright with cranberry and boysenberry, with subtle hints of florals and a vivacious acidic line. Breathe deep—can you smell just a bit of an ocean breeze? Swirl, and add a bit of cacao and herbaceous notes like basil or mint. Float the nose just above the glass to find the dust of the earth sprinkled amongst the fruit and florals.
Comments
Commenting has been turned off.