April 30, 2020 | Panther Creek News
Briscoe Bites Reviews Panther Creek 2017 De Ponte Vineyard Pinot Noir
Continuing my travels around Panther Creek's estate vineyards. Today's stop is the De Ponte Vineyard—doesn't the name just sound fancy? Trust me, the taste doesn't disappoint those expectations. Before you read on, make sure you've read about the winery's other single estate bottlings: Maverick, Kalita, and Lazy River. And don't forget to check out this super fun Pinot Noir-Chardonnay white wine blend. (I know, right?)
Also, don't judge me, yes that is pizza in the background. Again.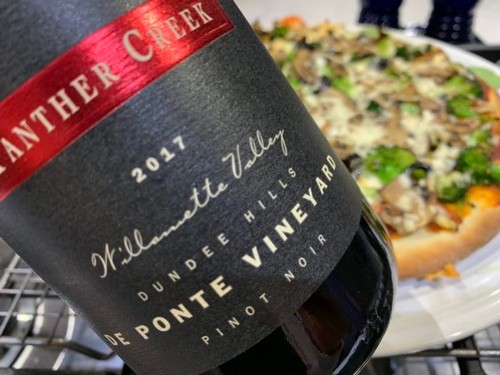 About the Wine: Panther Creek Cellars 2017 De Ponte Vineyard Pinot Noir
14.2% ABV
Flavor Profile:
Appearance: pale ruby
Aroma: The aroma is of medium (+) intensity and youthful with scents of cranberry, wild strawberry, pomegranate, rose petals, oak wood, an herbaceousness (that I just couldn't place—the winery's tasting notes suggest tobacco leaf and I won't disagree with that), and a hint of toasty matchstick flint.
Comments
Commenting has been turned off.