April 7, 2020 | Panther Creek News
Briscoe Bites Reviews Panther Creek 2017 Kalita Vineyard Pinot Noir
This is a continuation of my tour of Panther Creek Cellars' various vineyard sources. Today, we travel to Kalita Vineyard, located in the Yamhill Carlton AVA of Oregon, and planted entirely to Pinot Noir.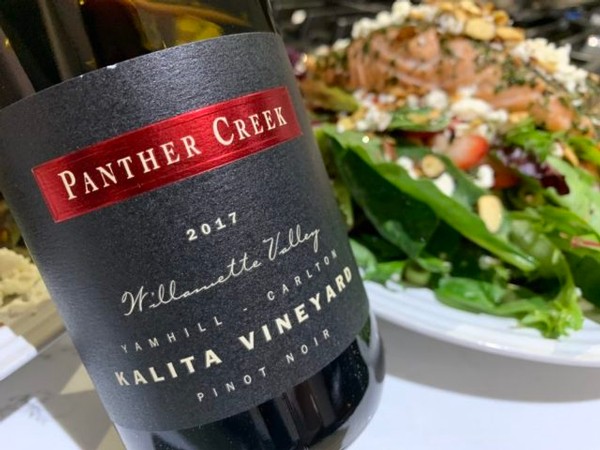 A bit about the vineyard from the Kalita Vineyard website:
Year planted: 2000
Varieties planted: Pinot Noir
Clones: Pommard, PN 114, PN 115, PN 777, all on grafted rootstock
Acreage planted: 22 acres
A bowl-shaped site providing winemakers with the option to select grapes grown on hillsides facing South, Southwest or Southeast with elevations ranging from 400 to 800 feet.
The soil is classic WillaKenzie soil.
22 acres of Pinot Noir with four different clones – Pommard, PN 114, PN 115 and PN 777 – all on grafted rootstock. Spacing is 4'x7′.
A Certified Sustainable Vineyard by Oregon Live
Managed since first planting in 2000 by Results Partners (currently led by Daniel Fey).
Now onto the wine…
About the Wine: Panther Creek 2017 Kalita Vineyard Pinot Noir
14.2% ABV
Flavor Profile:
Appearance: Pale ruby
Aroma: Initial aromas are medium (+) intensity and are, believe it or not, already showing signs of development. Aromas include: chocolate, black cherry, boysenberry, bramble, eucalyptus, wet wood or forest floor, toast, and nutmeg
Comments
Commenting has been turned off.