June 3, 2019 | Panther Creek News
Panther Creek 2015 Kalita Vineyard Pinot Noir | Chuck Hill Wine Review
Chuck Hill Wine Reviews - Friday, May 31, 2019
Pinot Noir with Copper River Salmon - Part 2
Weekly wine reviews from veteran Seattle wine writer Chuck Hill. Chuck has been reviewing wines for over 12 years featuring Northwest wines, California wines and wines from countries around the world. He has been writing about wine and wine tourism for over 25 years.
Little Tidbits about Pinot Noir
Pinot Noir is a hard grape to grow, and it is a hard wine to make well. It is often too "weak" for Cabernet lovers to enjoy with their steaks, but it rewards subtle foods and preparations with complexity, good acidity and balance. It is the favorite red wine of mature and experienced wine tasters – especially with salmon!
So you have pulled the cork on a Pinot Noir, and it smells like latex gloves or has hints of sulfury funk. This variety is prone to a condition called "reduction" which occurs when a wine is kept from oxygen contact during aging. Usually you can just decant the wine with aeration (splashing) and the funk will breathe off. In severe cases it won't.

When winemakers try to please Cabernet lovers with their Pinot Noir bad things can happen. Wines labeled "Reserve" are often overripe and have been exposed to excessive new oak aging. True Pinot Noir lovers eschew such wines and would rather have a more delicate and complex bottling.

Pinot Noir also has a seemingly magical quality to change hue (light to dark or vice versa), or to evolve in the bottle during aging to show lighter or heavier character. The color thing is related to pH (hydrogen ion concentration) and is best left to physicists to explain. The change in taste character is just a quirk of the variety – just accept it as one of the miracles of nature.

Now that I'm done whining about Pinot Noir's little idiosyncrasies, let's pull some corks, bring on the salmon and enjoy!
...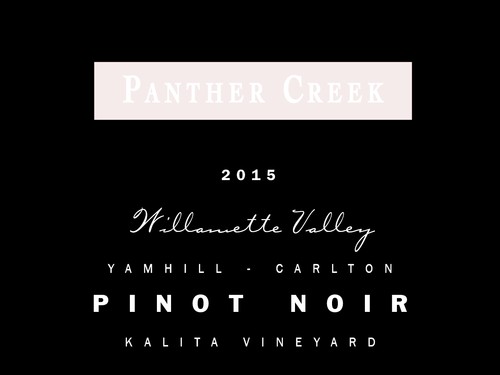 Panther Creek Cellars 2015 Pinot Noir, Kalita Vineyard - $50
This wine was made from grapes grown at Kalita Vineyard in the heart of Oregon's Yamhill-Carlton District. The vineyard is planted exclusively to Pinot Noir including Pommard clone and three Dijon clones, all on resistant rootstock. Look for aromas and flavors of ripe black cherry, pomegranate and spice with notes of violets and orchard blossom, good balance and impeccable structure make this a hit with salmon from the grill.
Comments
Commenting has been turned off.