June 21, 2017 | Panther Creek News
Northwest Wine Encounter A Success | WineIndustryAdvisor
WineIndustryAdvisor.com, Northwest Wine Encounter at Semiahmoo Resort Records Another Success
Top Washington, Oregon and Canadian Winemakers from DeLille, Gehringer, Leonetti, Northstar and Panther Creek Featured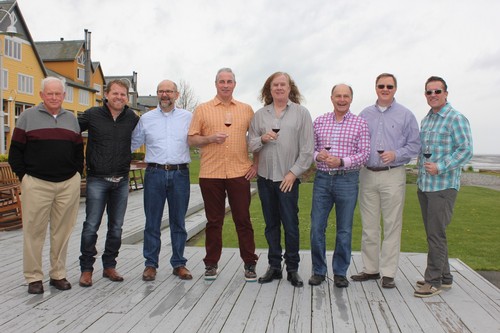 BLAINE, Washington, June 21, 2017 — April 28-30, 2017 marked the second annual Northwest Wine Encounter weekend at the Semiahmoo Resort, Golf and Spa, just south of the Canadian border in Blaine, Washington. Building on a uniquely engaging format showcasing some of the region's most celebrated winemakers, the weekend offered insight and inspiration coupled with the cuisine of chef Bruno Feldeisen. Renowned Washington grower Mike Sauer, owner of Red Willow Vineyard as well as Arthur Kalita, proprietor of Kalita Vineyard in Oregon's Willamette Valley enhanced the roster. Keynote speaker was acclaimed Washington retailer Doug Charles of Compass Wines in Anacortes. Charles, who is often touted as "Historian of the Pacific Northwest", opened the conference with a view through his personal and professional lens, beginning with his early years around the kitchen table with his grandmother and James Beard and working through the recent decades of explosive growth and innovation in the Northwest.
(L-R) Mike Sauer, Chris Figgins, Doug Charles, Tony Rynders, Chris Upchurch, Walter Gehringer, Eric Degerman and Dave Merfeld
Participants in the 2017 Wine Encounter were Chris Figgins of Leonetti Cellar, Toil Oregon and Figgins Family Wine Estates in Walla Walla, Wash.; David "Merf" Merfeld of Northstar Winery in Walla Walla; Chris Upchurch of DeLille Cellars in Woodinville and Upchurch Vineyard on Red Mountain; Tony Rynders of Panther Creek Cellars in Dundee, Ore., and Tendril Wines in Gaston, Ore.; Walter Gehringer of Gehringer Brothers Estate Winery in Oliver, British Columbia; Dana Roberts of Westport Winery in Aberdeen, Wash.; Doug Charles of Compass Wines in Anacortes, Wash., and Mike Sauer, founding viticulturist and co-owner of revered Red Willow Vineyard in Washington's Yakima Valley.
Seminars included The Siren Song of Pinot Noir, The Wonder of Walla Walla, The Importance of Place and Wine Speed Dating, a timed tasting which proved particularly popular as guests sipped and socialized with winemakers. Friday evening's beach bonfire was accompanied by winemakers' cellar selections and s'mores paired with 20-year-old Vintage Port. The Winemakers' Gala Dinner on Saturday featured cuisine created by executive chef Bruno Feldeisen, a Food Network Canada star. He was introduced by Columbia Hospitality culinary director Roy Breiman, an author and celebrity chef who defeated Bobby Flay during Season 6 of Beat Bobby Flay.
"It was clear that the region has come a long way rather quickly," Charles pointed out. "Back in the 80's, there were less than 20 wineries in Washington. Now there are over 900. The subject of "finding place" has evolved over time – from a region, the Pacific Northwest, to a state, Washington or Oregon, to an area, such as Walla Walla and the Willamette Valley, to the focus that we see today on specific vineyards."
Winemakers, growers, and consumers all agreed that the unique terrain and climate of the Northwest, when coupled with the personal and passionate visions of each winery and winemaker, yield wonderful wines of great depth, flavor and character, many of which often "over-deliver on price". As Chris Upchurch of DeLille Cellars and Upchurch Vineyard noted, "We're making wines that reflect the terroir of the vineyard and the deliciousness of the grape. That's our Washington."
"We were fortunate enough to attract another historic lineup of winemakers and winegrowers, which I believe speaks to the siren's call that is Semiahmoo as a destination resort," event co-founder Eric Degerman said. "For the second year in a row, we recruited some of the Pacific Northwest wine industry's most renowned pioneers, who have helped moved our corner of the wine world onto the global stage."
Degerman continued, "With the ongoing support of friends, fans and partners such as Alaska Airlines Mileage Plan and Seattle Magazine, we look forward to growing the Northwest Wine Encounter in the years ahead."
Comments
Commenting has been turned off.