August 6, 2020 | Panther Creek News
Panther Creek Cellars Vinous Scores by Josh Raynolds
Oregon Pinot Noir: The Winning Streak Continues
BY JOSH RAYNOLDS | AUGUST 04, 2020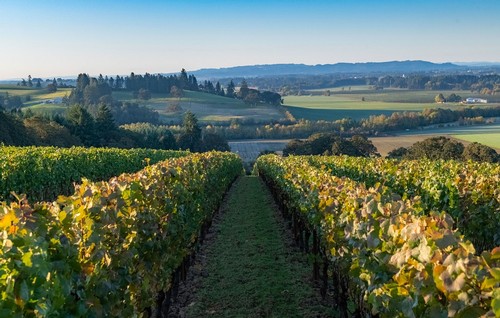 Oregon's unprecedented run of outstanding vintages which began in 2014, has been extended yet again with 2018. In fact, you have to go all the way back to 2011 and 2007 to find years that were truly challenging, and both of those vintages actually produced a large number of outstanding wines.
Brian and Jill O'Donnell's Belle Pente Vineyard, in Yamhill-Carlton, has produced some of the Willamette Vallley's most graceful Pinot Noirs since 1996.
2018 – Power and, Often, Elegance
In 2018, Oregon saw an abnormally dry, sunny and hot growing season, even by recent standards, and the wines show it. By and large, the 2018s tend to possesses deeper, darker fruit profiles than the 2017s. In a number of cases, alcohol levels are on the high side, but many of those wines have the freshness to buffer the heat, not to mention the balance and backbone to prevent them from coming off loose or markedly warm in character. Oregon Pinot drinkers whose taste runs to richness and power are going to flip over the 2018s, while I suspect that those whose preferences lean more towards brightness and red fruit will largely prefer the 2017s.
...
Panther Creek Cellars Scores:
2017 Carter Vineyard Pinot Noir 93 points: Glistening ruby-red. Deeply perfumed aromas of blue fruit preserves, smoky minerals and baking spices; a cola nuance emerges with air. Rich, sappy and pliant, offering intense red berry, boysenberry and cherry liqueur, vanilla and floral pastille flavor lifted and sharpened by a vein of juicy acidity. Shows welcome vivacity for its power and finishes with smooth, harmonious tannins that fade into the wine's juicy fruit. 50% new French oak.
2017 De Ponte Vineyard Pinot Noir 93 points: Limpid ruby-red. Sexy, oak-spiced cherry, black raspberry and mocha scents pick up a floral aspect with air. Juicy and concentrated yet lively as well, offering sweet red and dark berry flavors, a hint of vanilla and building spiciness. The mocha and floral notes resonate on a long, smooth finish shaped by sneaky, slowly mounting tannins. 50% new French oak.
2017 Kalita Vineyard Pinot Noir 92 points: Deep, shimmering red. Oak spice-accented aromas of cherry, raspberry, pungent flowers and blood orange, along with a hint of stoniness. Sappy and incisive on the palate, offering intense red fruit and floral pastille flavors supported by a spine of zesty acidity. Shows fine detail and spicy lift on a long, penetrating finish braced by silky, slow-building tannins. 50% new French oak.
2017 Lazy River Vineyard Pinot Noir 92 points: Bright-rimmed ruby. Deeply perfumed, mineral- and spice-accented cherry, dark berry and floral oil scents, with a hint of licorice that emerges with air. Palate-staining black raspberry, bitter cherry and spicecake flavors become sweeter and more lively with air. Shows very good energy and solid thrust on the finish, which features lingering vanilla and spice qualities and smooth, polished tannins. 50% new French oak.
2017 Maverick Vineyard Pinot Noir 91 points: Light, bright ruby. Highly perfumed red and blue fruit and floral scents, along with suggestions of vanilla and woodsmoke. Juicy and energetic in the mouth, offering supple raspberry, boysenberry and cola flavors that take a spicy turn on the back half. Finishes long and supple, with gentle tannins coming in late. 33% new French oak.
2018 Winemakers Cuvee Pinot Noir 90 points: Vivid Magenta. Pungent red berries, cherry, smoky minerals and a suggestion of underbrush on the fragrant nose. Chewy raspberry and bitter cherry flavors show good tension, and a bracing mineral note adds back-end lift. The Firm, focused finish is framed by fine-grained tannins and leaves smoky mineral and floral notes behind. 23% new French oak.
Comments
Commenting has been turned off.