November 27, 2017 | Panther Creek News
Panther Creek News Update, November 2017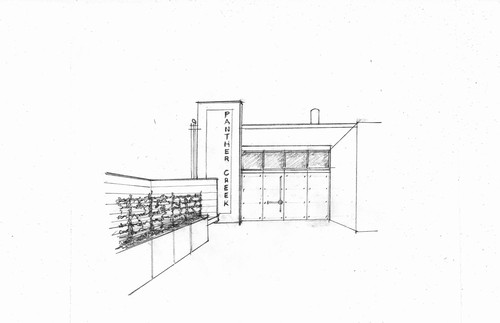 Friends of Panther Creek,
We at Panther Creek Cellars would like to update you on what's happening at the winery. As you may know, we recently closed our Dundee Tasting Room and are relocating our tasting room operations to Woodinville, Washington. This was a strategic move for us to help build our brand as part of the premium wine destination of the Northwest.
Our retail space will be in Washington, but our winemaking and wine quality will remain the same under Tony Rynders' leadership, which has yielded tremendous scores and consistent and excellent quality since his arrival in 2013. Our mission remains to showcase the unique terroir of some of the best vineyard sites in the Willamette Valley.
We understand that some of you were disappointed in the decision but hope that you understand and can continue to support our winery. We are very excited to start construction of the new tasting room come January – the opening is scheduled for March 2018. Below you will find a preliminary sketch of our new tasting room front.
In the transition, we have hired a new team of talented staff that will help elevate Panther Creek to the next level. Our new Tasting Room Manager & Assistant General Manager is Madelaine Morford. Madelaine is a Certified Sommelier and has more than a decade of experience in the wine industry. She will be helping us run the tasting room, the wine club, to the daily operations of the winery. We look forward to having her in the tasting room where she will create a welcoming atmosphere and provide in-depth wine knowledge.
Kurtis Wright is another new addition to our team, located in Portland, Oregon. Kurtis has a strong background in wine sales and events, and will help us execute and host local events in the Portland area for our wines and wine club members. We are in the midst of planning some pop-up tasting events for 2018 so please make sure you stay current on our mailing list to ensure you know what's happening with our tastings and events in the Portland area.
We will be bottling our 2016 vintage in December and will also be revamping the wine club with a new set of perks and benefits to provide our members with a greater experience.
Thank you for your support of our small production winery, without you none of this would be possible!
Cheers,
The Team at Panther Creek Cellars
Comments
Commenting has been turned off.