September 1, 2016 | Panther Creek News
Panther Creek in Panther Creek in "Outstanding Pinot Noir $30 and Under" | Wine Press Northwest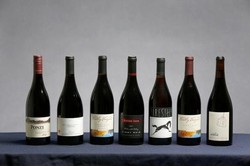 PINOT NOIR
This was the most fun category to judge because Pinot Noir has a reputation of carrying a price tag that often exceeds $30. It's neither easy nor inexpensive to make Pinot Noir in Oregon, so prices can quickly escalate. We were thrilled to receive nearly 40 wines that fit our parameters.
OUTSTANDING
Panther Creek Cellars 2014 Winemaker's Cuvée Pinot Noir, Willamette Valley • $30Tony Rynders, one of Oregon's most acclaimed winemakers, now heads up the program for this historic brand, and he blended Pinot Noir from seven vineyards to create this masterpiece. Complex aromas of moist earth, black raspberry and plum leads to elegant flavors of rich red fruit, focusing on plum and raspberry. The gentle mouth feel and velvety tannins help make this a wine that overdelivers for the price. (1,904 cases; 14.1% alc.)
Comments
Commenting has been turned off.