July 19, 2017 | Panther Creek News
Panther Creek 2014 Lazy River Vineyard Pinot Noir, Wine of the Week | Wines Northwest
Wines of the Week
Published July 18, 2017
Pinot Noir and Copper River Salmon
Part 4 of a 4-Part Series
By Chuck Hill
Part of the fun of enjoying Pinot Noir is the wide variety of tastes that evolve from this single grape. Some tastes are dependent on ripeness of vintage, some on clonal selection and plenty more from winemaker intervention like oak aging and other treatments.
The basic fruit aromas/flavors evolving from ripeness of vintage are (in increasing order of ripeness): strawberry (not so ripe), red cherry, black cherry, plum, dried plum/prune (very ripe or overripe). Oak aging adds spicy and woody notes to a wine's aroma and flavor as well as distinct caramel, brown sugar and smoky notes.
When first opened, many Pinot Noirs are shy with their aroma and open up only after breathing for a half hour or so. As the wines breathe, they reveal flavors beyond the fruit, including the toasty/smoky wood notes and caramel/meaty flavors.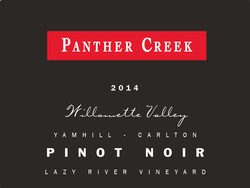 Panther Creek Cellars
2014 Pinot Noir, Lazy River Vineyard
Yamhill-Carlton AVA
$45.00
This rich and flavorful Pinot Noir was crafted from grapes grown at Lazy River Vineyard in the Yamhill-Carlton AVA near the Oregon Coast Range mountains. Winemaker Tony Rynders aged the wine on French oak, 47% new, for 8 months. A favorite with my tasting panel, the wine offers complex aromas and flavors of black fruits and dark cherry with notes of earthy minerality, blueberry and hints of mocha and spice.
Comments
Commenting has been turned off.