June 27, 2017 | Panther Creek News
Panther Creek De Ponte Vineyard Pinot Noir, Wine of the Week | Wines Northwest
Wines of the Week
Published June 21, 2017
Pinot Noir and Copper River Salmon
Part 1 of a 4-Part Series
By Chuck Hill
For many wine lovers, Pinot Noir is their red of choice – offering ripe and fruity aromas and flavors, as well as the most versatility in pairing with food. Whether serving roasted chicken, meats from the grill, or pasta with a hearty sauce, Pinot Noir enhances the flavor of the food and adds character without overpowering the dish. My choice of rich Copper River salmon from Alaska gives Pinot Noir a chance to mingle with a superstar of the seafood world and create a perfect match of food and wine.
Pinot Noir is produced in a variety of styles. Wines from cooler vintages are often aged with less oak and offer strawberry and raspberry fruit – great for sipping or savoring with lighter foods; wines from warmer vintages (or growing areas) and preferred sites see more oak and plumb the depths of ripe cherry and plum with toasty and caramel nuances. Rosé of Pinot Noir is produced either by saignée (bleeding of juice from red must) or by limiting skin contact in a dedicated cuvée.
Panther Creek
2014 Pinot Noir, De Ponte Vineyard
Dundee Hills AVA
$45.00
This rich and complex Pinot Noir is another example of the variety grown on volcanic soils, specifically the red Jory soils of the Dundee Hills. The wine offers aromas and flavors of red and black fruits with toasty and spicy nuances from aging on 40% new French oak. Medium body and earthy minerality pair well with salmon from the grill.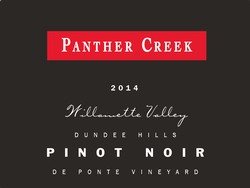 Comments
Commenting has been turned off.