June 24, 2018 | Panther Creek News
Visiting the New Panther Creek Tasting Room | Woodinville Wine Blog
WoodinvilleWineBlog.com. "VISITING THE NEW PANTHER CREEK CELLARS TASTING ROOM WITH CLAUDETTE"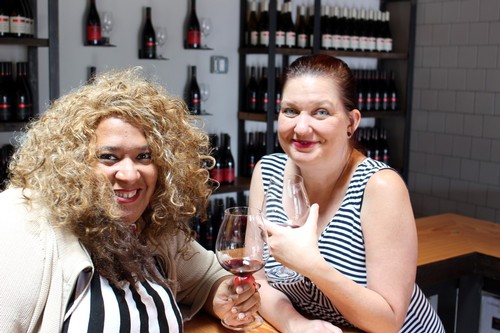 June 24, 2018
We were so excited to visit Woodinville's newest tasting room, Panther Creek Cellars, when it opened recently. Panther Creek Cellars is a well-known Oregon winery with a long history.
I wanted to include this photograph of their cheery planters to help you find the tasting room after you park in the busy parking lot nearby!
The Panther Creek Cellars tasting room is located in Woodinville's Hollywood District, around the back corner from Lachini Vineyards and Purple Cafe.
We were greeted by these imposing, striking red doors – with darling potted red geraniums to match!
The doors open to reveal an elegant modern tasting room.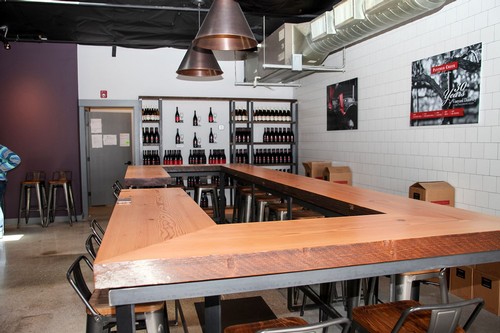 Inside, we met the delightful tasting room manager, Madelaine, and fabulous tasting room associate Laurel. We appreciated the time they spent educating us about Panther Creek Cellars, Pinot Noir, amd Oregon's AVAs, plus sharing their wine knowledge with us.
Panther Creek Cellars has been producing wine since 1986 – incredible! They're joining Torii Mor and Lachini Vineyards in bringing Oregon wine to the Woodinville area.
Jen wasn't able to go with me on the day I headed over to visit the new tasting room, but she forgave me for going without her and insisted I take our friend Claudette along too. Claudette runs a 7000 member Meetup group near Seattle, called Eastside Social Club.
Our tasting began with the 2016 Pinot Gris, a white wine from the Willamette Valley. It's made from grapes grown at the Westmount Vineyards. It's a 92 point wine (Wine Enthusiast).
Claudette doesn't normally care for white wines but enjoyed how crisp and refreshing this one was. And I picked up a bottle to serve at my next outdoor summer party, knowing my guests would love this.
Our second tasting was the 2016 Winemakers Cuvee, a 90 point wine with black cherry and strawberry notes. Just under 1800 cases of this were produced. (I don't mind admitting that I had to go home and refresh my memory by looking up what cuvée means!)
The 2015 Kalita Vineyard Pinot Noir was aged in 25% New French Oak barrels. It's a 90 point wine, with only 400 cases produced. We so enjoyed tasting this earthy wine.
Claudette was really impressed by these wines and planned to bring friends back to a tasting soon.
After that, we tasted another single vineyard varietal, the 2015 Schindler Vineyard Pinot Noir, from Eola-Amity Hills AVA. This is a 91 point wine with a smooth, silky texture.
Our final tasting pour was the 2015 Carter Vineyard Pinot Noir. This was my very favorite of all the wines we tasted that day – I am a sucker for wines with cherry notes. Both Claudette and I purchased a bottle of this to take home with us.
Panther Creek excels at single varietal Pinot Noirs from Oregon vineyards. You can read more about their vineyards here.
You might be glad to hear that Panther Creek Cellars is one of the few Woodinville tasting rooms that's open on Mondays! Their Monday hours are noon to 5pm.
The tasting room is dog-friendly, but for well-behaved dogs only.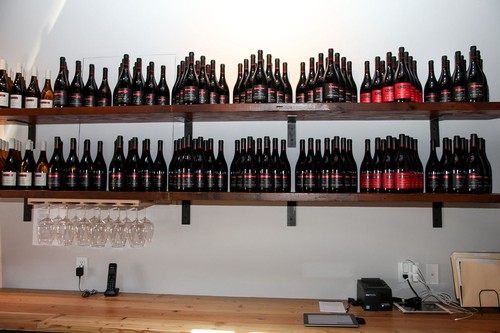 They don't offer by-the-glass wine pours, just wine tastings. They are not able to accomodate you bringing in food from nearby Purple Cafe, at this time.
For more information on visiting the Panther Creek Cellars tasting room, visit their Contact page.
Sunlight streams through generous skylights above, making it easy to examine the color and clarity of the wine in your glass.
I was delighted to be able to taste so many different Pinot Noirs in this vertical tasting – what a fabulous opportunity! I was worried they would all run together after the third or fourth pour, but found to my surprise I was able to differentiate them and come up with a couple clear favorites.
Since the Hollywood District tasting rooms get so busy on weekends, it's great that Panther Creek Cellars has so much seating available for guests around this table.
Jen came back soon after to take better photos than my amateur ones, wanting to give you a better picture of how gorgeous the tasting room is.
A giant wooden table dominates the room. Guests sit on the outside, and tasting room associates pour from the middle.
Panther Creek Cellars is located at 14455 Woodinville Redmond Rd. NE, Suite B, Wodinville, WA 98072.
Thanks to Madelaine and Laurel, and to Claudette for an enjoyable afternoon tasting Oregon wine in Woodinville!
-Carrie
Comments
Commenting has been turned off.